Formula 2 Multivitamin Complex
Formula 2 Multivitamin Complex helps to reach the recommended daily intake levels of essential vitamins and minerals.
Original 90 Tablets.
Main Information
Research suggests that the best way to ensure this contribution is to follow a varied and balanced diet that includes at least 5 servings of fruit and vegetables per day. Our fast-paced lives often prevent us from picking fruit and vegetables in the recommended qualities. In these cases, it may be useful to use a multi-vitamin supplement like Formula 2 Multivitamin Complex.
Key Benefits
Provides 21 essential micronutrients
Contains antioxidant Vitamins A (as beta-carotene), C and E to support your immune system*
Includes folic acid, calcium, and iron
Promotes healthy bones, skin, and hair*
*These statements have not been evaluated by the Food and Drug Administration. This product is not intended to diagnose, treat, cure, or prevent any disease.
Usage – Formula 2 Multivitamin Complex
Take one tablet with a meal three times per day.
Herbalife also recommends using Formula 1 Healthy Meal Nutritional Shake Mix and Formula 3 Cell Activator® to complete the Herbalife® Core Cellular Nutrition program.
.
Summary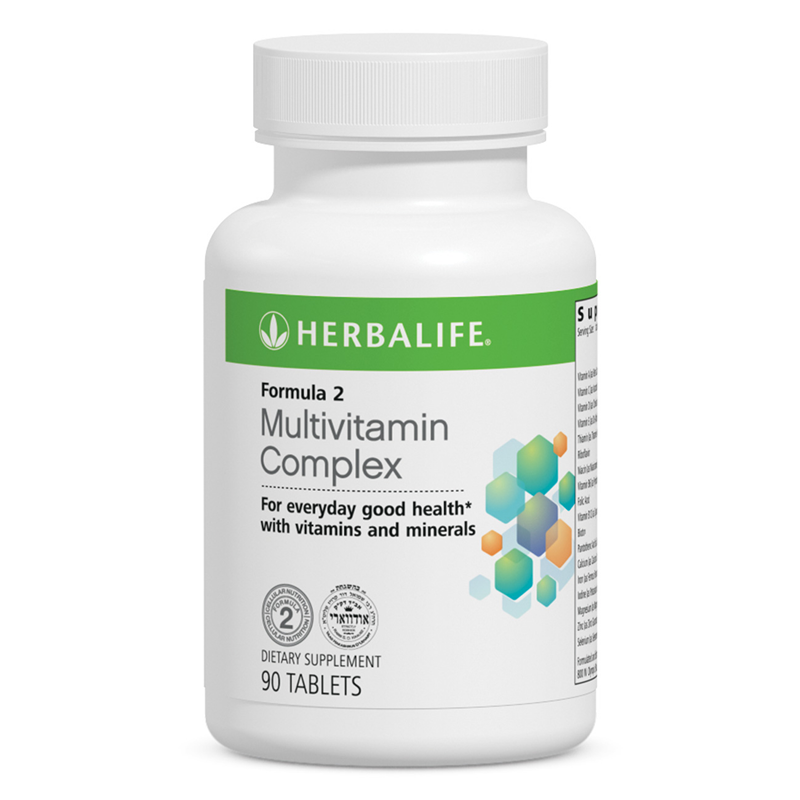 Brand Name
Product Name
Formula 2 Multivitamin Complex