Formula 1 Express Herbalife
Formula 1 Express Meal Bar gives you the opportunity to enjoy a nutritious and flavorful meal anytime, anywhere. Thanks to his packet you can bring them wherever; packed with protein, essential vitamins, minerals, and other essential nutrients.
The tasty Cookies 'n Cream flavored bar makes it easier than ever to expand your meal options and enjoy a nutrient meal with Formula 1 on the go!
Protein is vital to a healthy diet, as it's one of the essential building blocks for many cell components in your body. The protein contained in Formula 1 Express helps satisfy hunger, build muscle tissue, maintain lean muscle mass and give you energy. And when you consume 25 g of soy protein a day, as part of a diet low in saturated fat and cholesterol, you may reduce the risk of heart disease.
Key Benefits
15 g of protein per serving
21 vitamins and minerals
5 g of fiber to help support weight management
Individually wrapped for on-the-go use
Package: 7 Bars
Usage – Formula 1 Express
Substitute one or two meals per day with a nutritious Formula 1 Express Meal Bar.
For weight loss, replace two meals daily with any of our Formula 1 products and eat one nutritious meal, as part of a healthful weight management routine.
Summary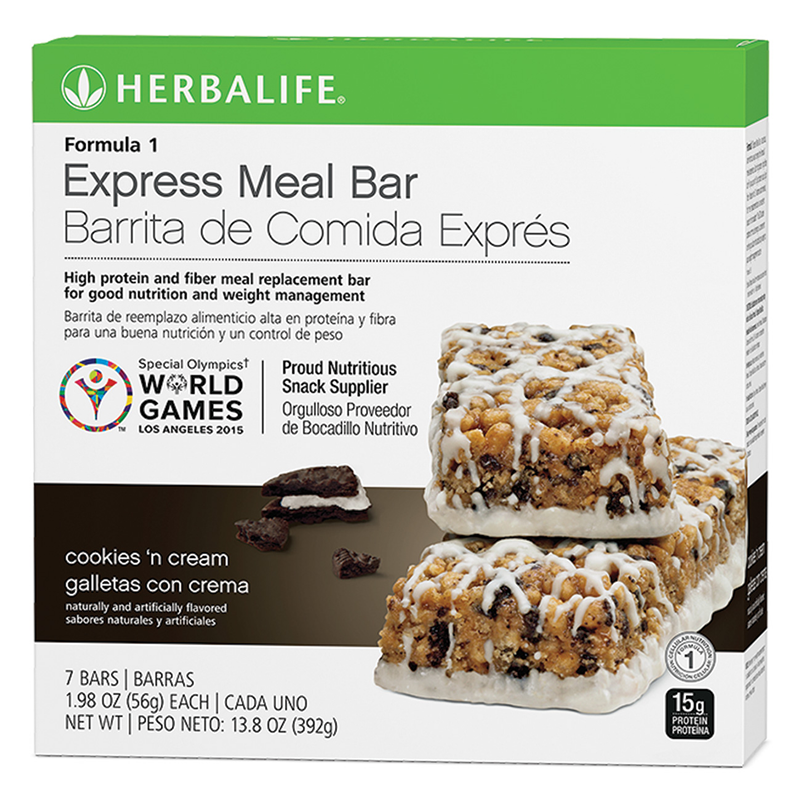 Brand Name
Product Name
Formula 1 Express Herbalife