Herbalife24 CR7 Drive
Herbalife24 CR7 Drive is a fantastic product created in 2015, born in collaboration with the gold medalist Cristiano Ronaldo. CR7 Drive is a sports supplement that contains a carbohydrate and electrolyte solution that helps improve strength and performance by increasing water absorption during prolonged physical exercise *. Perfect for practicing both professional and amateur sports, great for supporting a football match, racing session or a game of any other sport where you play (volleyball, basketball, soccer, etc.).
Rapidly fuel your workouts and enhance hydration! Herbalife24 CR7 Drive is a contemporary sports drink, without any artificial flavors or sweeteners. It is light tasting and formulated to provide three components necessary for performance: enhanced hydration, metabolism-supporting Vitamin B12, and energy.
Key Benefits – Herbalife24 CR7 Drive
Developed in collaboration with Cristiano Ronaldo, world-class soccer champion
Drink with carbohydrates and electrolytes delicious and refreshing to drink while exercising.

Without artificial sweeteners

, with the taste of Acai Berries.
It has been shown that carbohydrate-electrolyte solutions

favor the maintenance of resistance performance

*.
They also improve water absorption during exercise **.
One portion has less than 100 kcal intake.
Enhances hydration with 320 mg of vital electrolytes lost during exercise
Brain-fueling glucose helps promote quick and accurate game-time decision-making.
Easy-to-digest carbohydrate blend helps fuel muscles and sustain energy levels.
NSF tested and Certified for Sport®***
Fast Facts 

– Herbalife24 CR7 Drive
Four-carb blend to provide a mixture of carbohydrates to help performance
Contains 50% DV of methylcobalamin, the biologically active form of Vitamin B12
Formulated with vital electrolytes to help enhance hydration
Colored with juice from real purple carrots and grapes
* Carbohydrate-electrolytes solutions help maintain strong performance during prolonged exercise.
** Carbohydrate-electrolyte solutions increase the absorption of water during exercise.
***Certified for Sport® is a registered trademark of NSF International.
Package: 29 Oz.
Usage – Herbalife24 CR7 Drive
Consume pre-workout to top off energy systems, or during exercise to fuel and get the most out of your workouts. Canister: Mix one scoop (13.5 g) per 8 Fl. oz. of water; Packets: Mix one packet (one packet = 2 servings) per 16 Fl. oz. of water.
Summary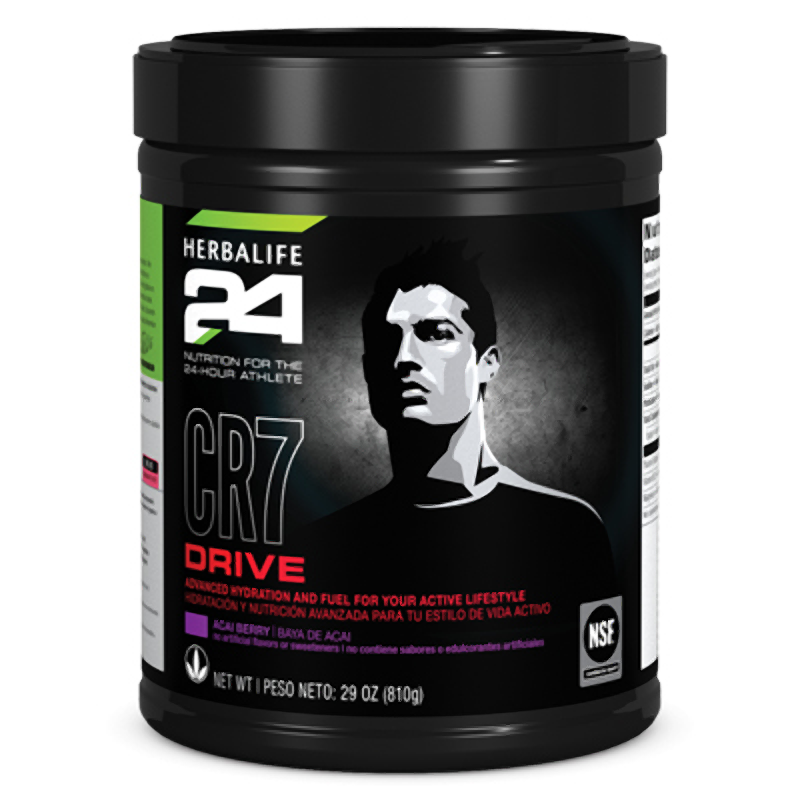 Author Rating





Brand Name
Product Name